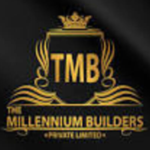 Overview
Founded Date January 1, 2010

Sectors Construction / Facilities , Real Estate / Property , Sales & Marketing

Posted Jobs 0
Company Description
We hear about hopes and dreams as shaped through the decisions and professional movements in life
Millennium is the fastest-growing commercial real estate services firm. Headquartered in Islamabad, Pakistan, Millennium is a collaborative, global firm owned and operated by its principals. Founded in 2013, the company comprises of leaders in the pakistani real estate industry.
Offering and providing value-added, client-centric investment, consultancy, sales, advisory, management services to owners and occupiers of commercial, offices, industrial, private societies, government own sectors and multi-family properties.
Millennium is a full-service, luxury real estate brokerage and lifestyle company representing clients worldwide in a broad spectrum of classes, including single-family residential, new development, residential leasing, commercial real estate and luxury apartments and houses.
Growing our company in the process; in response to changing client expectations and market conditions, we assemble teams of experts who deliver integrated services built on market insight and foresight, sound research and relevant market knowledge.
We attract, develop and reward the best, and most diverse, people in our industry, challenging them to develop enduring client relationships built on quality service, collaboration and trust.
In drawing together the new standard and our total performance management; we have developed our management system to reflect and encourage Best Practice.
Best Practice now includes all our business management system and incorporates what was our quality management system. This is what the new standard covers; we now have a management system that reflects the way we do our business, making processes more efficient, effective and professional.
Industry: Real Estate
Company size: 11-50 employees
Headquarters: Islamabad, Punjab
Founded: 2010
Specialties: Marketing, Sales, Real Estate, Property Advisors, Builders, and Travel & Tourism